Search Results
Date:

1991-02-19

Description:

Correspondence from Frank Beacham to Cleveland Sellers regarding the Orangeburg Massacre.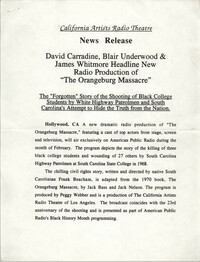 Date:

1992

Description:

California Artists Radio Theatre News Release for "the 'forgotten' story of the shooting of black college students by white highway patrolmen and South Carolina's attempt to hide the truth from the nation," a new radio production entitled, "The Orangeburg Massacre," starring David Carradine, Blair Underwood, and James Whitmore.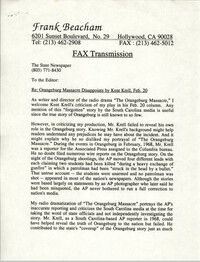 Description:

Fax transmission from Frank Beacham to The State Newspaper discussing a disagreement with with an Associated Press writer named Kent Krell regarding the truth surrounding the Orangeburg Massacre.