Result found on the following page of: Erastus Everson Diary 1861-1893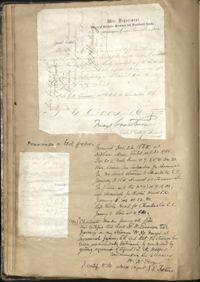 Date:

1865-12-23/1866-01-09

Description:

"A color scan of a scrapbook page with a special order, memoranda, and note. The special order by O.O. Howard from the Bureau of Refugees, Freedmen and Abandoned Lands orders Everson to proceed to duty in the Bureau in Charleston, SC. The memoranda is a copy from the text on the back of the special order outlining Everson's travel itinerary. The note is from the Charleston Harbor (with a handwritten transcription by Everson next to it) from steamer captain L.A. Hooper of the Frazer and verifies that Everson had been ""unavoidably detained"" by wind and by getting aground--all implying that Everson likely did not report promptly for duty."