1 - 3 of 3
Number of results to display per page
Search Results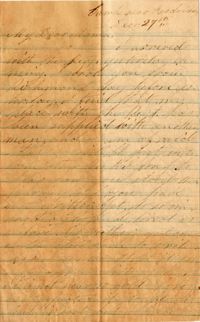 Date:

1863

Description:

Willis writes from near Fredericksburg, Va., that he may be involuntarily moved to another Regiment.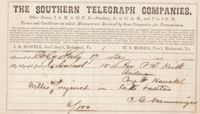 Date:

1863

Description:

This telegram from C.G. Memminger to Rev. P.T. Keith explains that "Willis [was] not injured in [the] last battle"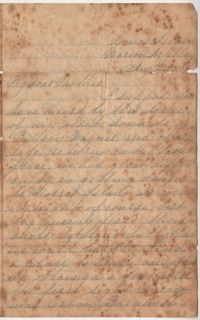 Date:

1863

Description:

Letter from Francis William Heyward to his mother concerning a recent sojourn to Battery Wagner on Morris Island, probably written in 1863. Francis relates to his mother the dangers of his recent trip to the battery claiming "the enemy fired their shots so beautifully," and how he endured six nights of shelling while stationed there. Afterwards, Francis "went to the city for a day, and I met Pa at the Mills House." 3p. August 23, 1863.